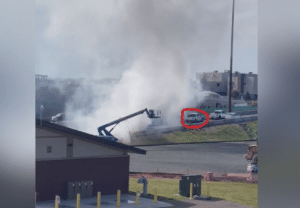 As many of you know, Will Carr is our Safety Director. He always has safety at the forefront of his mind – on or off the clock. A car accident this past weekend led Will and other bystanders to assist in a rescue that demonstrates this point.
The number one safety hazard on the Wescom WINS* Top Ten Safety Hazards list is driving. No matter where you are or what you're doing, it's always important to be aware of your surroundings. This is especially true when you're driving.
Here at Wescom, we could not be more proud of our Safety Director, Will and his actions. The actions of all involved likely helped save a life. Though we don't always hear about the good that is happening it is stories like these that inspire us to be better. It reminds us that we always have a duty to act.
We are so proud of Will and we wanted to share this story with you all. Thank you, Will! To learn more about Will, keep an eye out for his #GetToKnow video on our About Us page!
*Wescom WINS = Wescom Invests Non-stop in Safety. Circled in red is Will's Wescom truck. Big thank you to Will for assisting onsite with this accident!