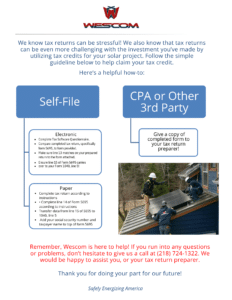 Tax returns can be a stressful and overwhelming time for everyone. We understand the importance of maximizing your solar investment and claiming the tax credits you rightfully deserve. That's why, at Wescom, we're here to help you every step of the way with our solar tax credit guide. We want to make things easier for you, including dealing with your solar tax credit forms. Our goal is to make sure you get all the benefits you're entitled to.
In this blog post, we're going to give you a simple and easy-to-understand guide. It will break down the steps and give you some helpful tips to make the process smoother. With Wescom by your side, you'll have the confidence and support you need to successfully claim your solar tax credit. So, let's dive in and discover how our solar tax credit guide can make your solar tax credit journey smoother and more rewarding.
If you're Self-Filing Electronically:
First, complete the tax software questionnaire with accurate information about your solar project costs.
Next, compare your tax return to the provided form from Wescom to ensure accuracy.
Then, Check to make sure that Line 13 on your prepared return matches the form that accounts for the correct credit amount.
Finally, verify that Line 15 on Form 5695 transfers correctly to Line 5 of your Form 1040.
If you're Self-Filing by Paper:
First, calculate the total cost of your project (Wescom can give this to you) and fill in Line 4 of Form 5695 (Residential Energy Credits form).
Then, transfer data from Line 15 of Form 5695 to
Line 5 from Form 1040.
Lastly, double-check all information for accuracy and add your social security number and taxpayer name at the top of Form 5695.
If you're using a Certified Public Accountant (CPA) or Other 3rd Party:
Give them a copy of your completed tax form, and they'll take care of the rest.
Remember, by following the steps outlined in this solar tax credit guide, you can confidently claim your solar tax credit. It's important to review everything and make sure it's accurate. At Wescom, we're here to make the tax return process easier and more rewarding for you. If you need any help, don't hesitate to reach out to us. We're excited to help you secure a brighter financial future!
To learn about what solar means to Wescom, check out our YouTube video here: https://youtu.be/kAVjC9zfiBE